Good Morning Friends!
Well it's another random rambling day, but hopefully you'll benefit from my craziness LOL!
Whether by writing articles for my website or
magazines
, etc., I'm forever researching and signing up for newsletters, etc. to find avenues through which I can expand my reach and grow my knowledge and experience.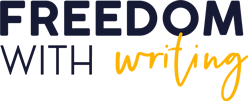 One such resource is
Freedom With Writing.com
This email comes a couple of times each week and is loaded with paid writing opportunities! And, as someone who would really LOVE to make a living by writing, these emails are some I welcome (in lieu of the "spam" I often get).
In fact, I've submitted to at least 1 publication who came through one of FWW's emails.
I'm sure there are numerous newsletters and E-zines you can subscribe to to receive information about writing opportunities and I'd love to hear if you've found some really good ones so PLEASE leave the info in comments.
Meanwhile, check out Freedom With Writing.
Hope you enjoyed today's thoughts and that you'll check with me weekly for
Thursday Thoughts
,
Tuesday Treasures
and
Saturday Spotlight
.
Until next time, take care and God bless!
PamT