Hello Friends,
Tuesday Treasure is a bit late getting posted today. But here it is....
You all know I'm an avid reader of spiritual material and Marianne Williamson is one of my favorite authors so when I received a B&N gift card for Christmas, I went shopping and picked up her book, Enchanted Love.
If you are married or single, looking or not, this book is a wealth of information! I highly recommend it and think EVERY couple should read it together!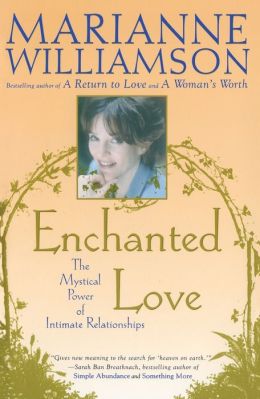 Three of Marianne Williamson's previous bestsellers --
A Return to Love, A Woman's Worth,
and
Illuminata
-- explored the issue of relationships. Now, in this deeply personal collection of essays, prayers, and self-reflection, she turns to romantic love.
In
Illuminata,
Williamson wrote that "we experience God to the extent to which we love, forgive, and focus on the good in others and ourselves." Now, in
Enchanted Love,
she writes that "enchanted partnership begins with the conscious understanding, on the part of two people, that the purpose of their relationship is not so much material as spiritual, and the internal skills demanded by it are prodigious." High romance, she says, "is not about past or future. It is not about practicality. It is not about society or worldly routines. It is an audacious ride to the center of what
is,
at the heart of every person. It is a bold and masterful inquiry into what two people really are and how we might become, while still on earth, the angels who reside within us."
This book is available @
Amazon
and
Barnes&Noble
!
Get it, read it alone and with your mate...you'll not regret doing so!
Until later take care, God bless & remember... Until you are clear about what you want in a mate, you'll keep getting bits and pieces in different packages.
Something to think about....
"Inspirational with an Edge!"
™