Good Morning and Welcome to the first Saturday Spotlight in September!
Today's guest is new to me (and therefore new to the blog) and brought to us by Tyndale, so please extend her a warm welcome......
KariAnne Wood
writes the award-winning lifestyle blog Thistlewood Farms from the back porch of her farmhouse in the beautiful rolling hills of Kentucky.
Her blog has been named one of the top 10 decorating blogs by
Better Homes and Gardens
and won the 2012
Country Living
Blue Ribbon Blogger Award for decorating.
KariAnne and her husband have four children.
So nice to meet you, KariAnne! Now tell us a little about your new book, So Close to Amazing....
Some days we women are so amazing it would make your head spin. And other days . . . well, we're so close.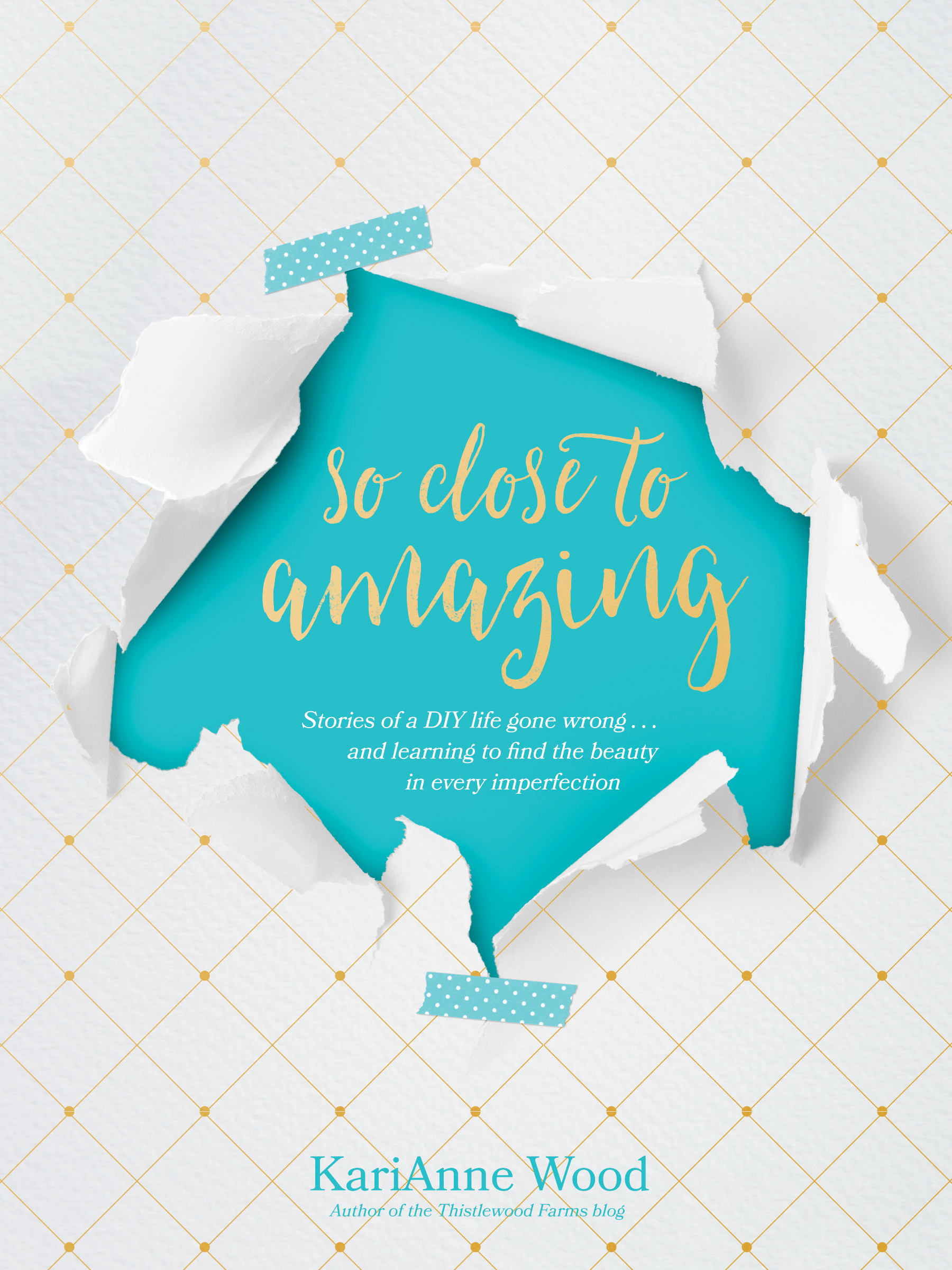 Can you relate? One day, my hair is behaving; the house is clean; the DIY project turns out Pinterest perfect; all my kids actually like each other. On days like that, it's an undisputed fact: I am an absolute rock star at life.
And then comes the next day. I decide to trim my own bangs. It's a tragic miscalculation.
I was so close. So close to amazing.
This book is a celebration of you and me—the incredible, awesome, yes-we-sometimes-mess-it-all-up you and me. It's my own story of figuring out that perfection is overemphasized and overrated; of learning from mistakes and rejoicing over every victory, no matter how small.
Because when you embrace the imperfect you God created you to be, you'll discover the amazing that was there all along.
Book contains 12 original DIY projects!
Excerpt:
I once went to a yard sale in the middle of a flood.
I'd been sandbagging for four days straight in ripped jeans, a dusty Texas Longhorns sweatshirt and hair that hadn't seen shampoo or a brush for over a week. I was tired. I was exhausted. And then? I saw it.
A sign for a multifamily sale.
The yard sale was a sight to behold. Treasures were scattered across the lawn. The heavens opened—but this time, instead of rain, it was angels singing a heavenly chorus.
Suddenly, across the yard, I spotted the exact thing I had no idea I'd been looking for.
It was the most amazing farmhouse table I'd ever seen. Slowly I made my way across the yard and in the most nonchalant voice I could muster, I asked the price of the table. The woman running the yard sale looked me up and down as I stood there with my seven-day hair, torn jeans, and sand-covered sweatshirt.
Maybe she felt sorry for me.
Whatever the motivation, the next words that came out of her mouth made me gasp. "That table is twenty-five dollars," she said gruffly. What? I stared at her, speechless. My mouth opened and shut and opened again in amazement. Seriously? Only twenty-five dollars?
Instinctively, my hands tightened on the top of the table. The yard sale proprietor took my blank stare, my lack of conversation, and my convulsive grip on her furniture as my attempt at negotiation.
"Okay," she said with a sigh. "If you give me twenty dollars, it's yours." As I drove away with my table, smiling gleefully, I heard a sweet sound coming across the cornfields.
It was the angels---starting a second verse.
What a great story KariAnne! Thanks for sharing and spending your Saturday here in the spotlight.
Hope you enjoyed KariAnne's visit friends and that you'll join me next (and each) week for Tuesday Treasures, Thursday Thoughts and Saturday Spotlight. Meanwhile, pick up your copy of So Close to Amazing at Amazon and B&N.
Until next time, take care and God Bless.