Good Morning Friends and Welcome!
Today we welcome back to our spotlight, Maris Soule with her novel,
A Killer Past
.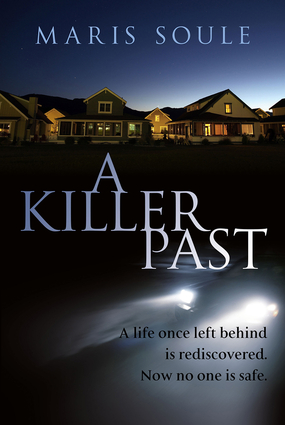 Most people in the town of Rivershore, Michigan view Mary Harrington as a quiet widow whose only oddity is she spends a lot of time at the gym. Her son thinks it's time for her to move into a retirement home. Two gang members think she'll be an easy target. No one in Rivershore knows what Mary did in her younger years—really did—but the two gang members discover they've underestimated their victim, and Mary fear reverting to old habits may have jeopardized her future.
Sergeant Jack Rossini studied her for a moment, trying to figure out why she would hide the truth, finally, he decided it was fear. 'You're not going to get into trouble, you know. Even if they did press charges, no judge would believe you went out of your way to attack those boys. And, as of this morning, they're not pressing charges. But if we could get them off the street....'
He let the idea hang out there.
'I'd like to help you,' she said, oh so sincerely, 'but I'm afraid I can't.'
He pointed at her right hand. 'I think that's where you got those bruises, why you're limping this morning.'
'Oh, come on.' She leaned back in her chair and folded her arms across her chest in a protective – or maybe defensive – manner. 'I'm seventy four years old. I have arthritis. Do I look like someone who could beat up two boys in their prime?'
He had to admit, the woman seated in front of him looked more like a grandmother than a fighter, but he knew things weren't always as they appeared. 'Have you ever studied the martial arts, Mrs Harrington?'
'I've done a little tai chi at the gym,' she said. 'They say it's good for your balance.'
'I'm not talking about tai chi. The way the boys said it went down, you were delivering kicks and Karate chops like a pro.'
'Well, I can assure you, I've lived in this town for forty-four years and not once have I taken a class in martial arts.' She pushed her chair back. 'Is there anything else, Sergeant? If not, I need to call my son and see if he can come over and get my car running.'
'I told you the boys aren't pressing charges,' Jack said and stood, 'but that doesn't mean they don't plan on retaliating.' He reached into his inside pocket and pulled out his business card. 'Keep your doors and windows locked and give me a call if you see anything unusual.'
*By the way, A KILLER PAST is being published by Robert Hale Ltd., a UK publishing house. They use the single quote around dialogue.
A KILLER PAST will be available in the UK in March but won't be available in the US or Canada until June 2015.
Maris Soule and her husband live in Michigan from May to the end of November and Florida from December to the end of April. She started out writing romances, but she also loves reading mystery and suspense novels, so it's not surprising that some of her romances also involved a mystery or suspense. Finally she decided to switch the order and for the last twelve years has been writing suspense novels that also have some romance. (After all, we all need a little romance in our lives. Right?) So far she's had 27 books published. A KILLER PAST will be number 28. This story came about after watching an episode of Nikita (on TV) and wondering what Nikita would be like in her 70s.